NEWS
The Plan to Get Jennifer Lopez & Ben Affleck Back Together!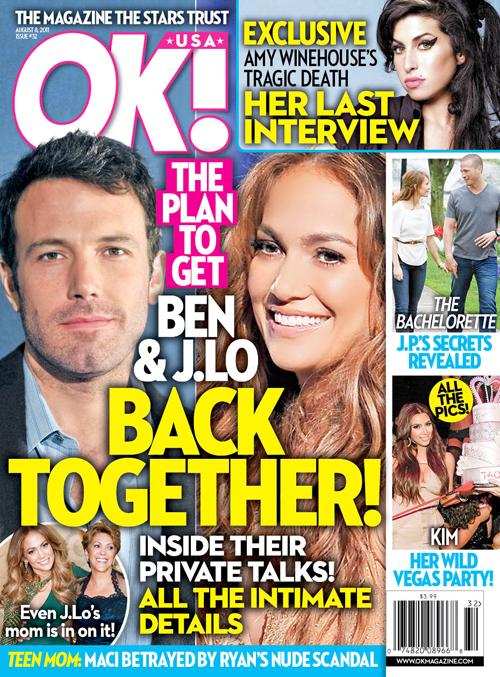 Jennifer Lopez: Friends say that since her split with Marc Anthony, Jennifer Lopez's mother, Guadalupe, has dreamed of her reuniting with married Ben Affleck. Plus, a body-language expert analyzes photos of Jennifer with the two men, and pics of her birthday celebration in Miami.
Amy Winehouse: The talented British singer tragically passes away at age 27. OK! has her last interview.
Kim Kardashian: All the details on Kim Kardashian's wild bachelorette party in Las Vegas!
The Bachelorette: Find out what made contestant J.P. Rosenbaum a fan favorite on this season of The Bachelorette. Plus, will he win Ashley Hebert's heart?
Teen Mom: How Ryan Edwards' nude-photo scandal has betrayed Teen Mom's Maci Bookout.
Fashion and Beauty: OK! shows you how to rock summer dresses like Eva Mendes does. Plus, how to look great and beat the heat in simple summer hairstyles.
Plus: OK! lists the top 10 craziest celebrity breakups; Who's trading up and who's trading down — OK! details the newest loves in stars' lives; Katy Perry faces off with Adele at MTV's Video Music Awards in August; Experts debate whether it's okay to text while walking; Stylist Taylor Jacobsen and actor Keith Powell review a few fashion catastrophes; E! News host Giuliana Rancic dishes on the hottest trends in Hollywood; Actress Melissa Joan Hart reveals to OK! her guilty food pleasures; And Jeremy Piven explains why his young niece thinks he works on a bus!
Article continues below advertisement