NEWS
Play-by-Play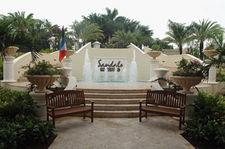 Arrived at the Grand Opening of Sandals Grande Antigua Resort and Spa late afternoon- it was raining.
Thoughts and highlights so far:
4pm: Greeted with champagne in the lobby and taken to room which is like a palacial suite with a balcony overlooking the entire 'rainy' village.
4:15pm: I explore the suite, read through itinerary and examine gifts in the room provided by Silver Spoon to make the trip more enjoyable: beach bag, sunscreen, flip-flops, variety of toothpaste, a romance novel, make-up, hair products (not enough to tame the frizz from tropical humidity)
Article continues below advertisement
4:30pm Jump on inviting bed full of pillows - and pass out until 6:30 when I shower and run down to ribbon-cutting ceremony and dinner.
8pm: Have buffet dinner and ask whereabouts of Kimora Lee Simmons and her beau, CK model Djimon Hounsou. Told that they arrived for their three day trip with seven pieces of Louis Vuitton luggage and haven't been seen since - but they did order a large quantity of champange to their room and spend several hours receiving couples treatments in the spa. No one knows how to pamper themselves quite like Kimora.
MORE ON:
Kimora Lee Simmons
10pm: Shaggy is performing and I'm participating in a beer guzzling competition. I don't normally even drink beer, too filling and not worth the calories. But, I like competition, especially in sports where I excel. I came in a close second, to another girl. At least the girls beat all the boys and I retained education from Arizona State University. Is that something to be proud of?
11pm: I hear Rumer Willis and Teri Polo are being picked up from the airport.
12:15am: I decide to call it a night. I slept appoximately three hours the night before + short nap and I'm determined to make it to poolside pilates at 10am (I did).
3:30am: Rumer Willis, Stephen Colletti and friends are in the hot tub! The friendly Sandal butlers continue to refresh their towels, champagne and beer.
4am: Rumer, Stephen and friends are still in the in the hot tub! I'm asleep. I'll rally tonight and report back tomorrow.