NEWS
Playboy Source: "Hef's Twins Just Care About Themselves"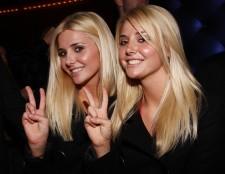 To those familiar with life inside the Playboy Mansion, it doesn't come as a big surprise today when it was announced that Hugh Hefner's now-ex-girlfriends, twins Kristina and Karissa Shannon, had decided to move out of the Hef's legendary playpen.
"You have to consider that these girls are only 20 years old," a source tells OK!. "The twins were there for the ride. They just care about themselves."
Article continues below advertisement
Hefner said he initially suggested the move, which is expected to be within the next couple of weeks, and that Kristina and Karissa will now be "friends" as opposed to having the official title of "girlfriends."
One of the reasons — and possibly a clear indicator — for the twins' departure from the famous Holmby Hills home was their relationship to the 83-year-old nudie magazine mogul.
According to the source, "it was not a secret the twins were sleeping around" while living under Hef's roof.
"From what I heard, the twins were not sleeping with Hef," the source continues. "And Hef didn't really seem to care. He would let them get away with murder. They did whatever they wanted."
This leaves Hef alone with his main girlfriend, 23-year-old Crystal Harris, and if the E! reality show The Girls Next Door gets picked up for a seventh season, the twins will still be a part of the series.