NEWS
Police Issue Warrant for 'Teen Mom' Amber Portwood's Arrest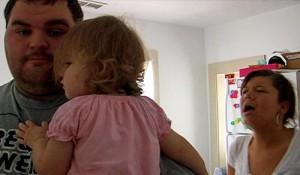 Looks like the legal woes for Amber Portwood will follow her into the new year. A arrest warrant has been issued for the Teen Mom stemming from felony charges for domestic abuse of her daughter's father, Gary Shirley.
Public Information Officer Mitch Carroll, from the Anderson, Ind. police department, confirms to OK! that a warrant has been issued for the 20-year-old mother, but he can't verify the "timetable."
Article continues below advertisement
Last month, Amber was charged with two felonies and a misdemeanor for domestic violence. If convicted, she faces up to three years in jail and fines of up to $10,000.
A criminal investigation was launched after an episode of Teen Mom aired in September where Amber was shown hitting Gary, 24, several times.
Amber, according to Aug. 14, 2009 police documents, "shoved Shirley against a wall, slapped him on the face and choked him. The incident was witnessed by the couple's one-year-old child who sat in a child seat on a nearby bed."
Then, on July 14, 2010, she was "videotaped slapping Shirley five times, punching him three times and kicking him at least once" and on July 18, 2010, "Portwood is again videotaped in the presence of their child slapping Shirley in the face, and punching him several more times in the face and upper-body."
Gary still has full custody of their two-year-old daughter, Leah.