NEWS
Which Politician Was The Inspiration for 'True Blood' Character Roman?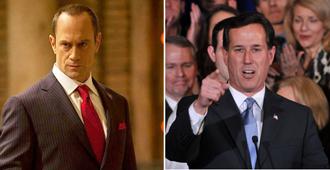 Fans of HBO's hit True Blood are consistently blown away by the supernatural creatures challenging Sookie Stackhouse and friends in the fictional Louisiana town, Bon Temps. Last night, viewers met a new villain, Roman, a vampire religious zealot-type.
OK! NEWS: STEPHEN MOYER SAYS THERE'S "LOTS OF SEX" ON TRUE BLOOD — JUST LIKE HOME WITH WIFE ANNA PAQUIN
True Blood creator Alan Ball sat down with The Wrap to discuss Season five and how he got the idea to mix religion with the vampires, fairies, werewolves and shape-shifters already taking up residence in the swampy Louisiana town.
Article continues below advertisement
The answer? The Republican primaries. It was the religious right that got his creative juices flowing.
"For me the jumping off point was watching the Republican primaries, watching Michele Bachmann, Rick Santorum, and asking what would it be like to have a theocracy in America – which is way more terrifying than any fictional monster could ever be," he said. "You don't really see vampires being religious creatures. They are excluded from God. But what if there was a vampire bible? A religion? Theocracy? How would that impact our human characters, or vampire characters?"
Roman, played by Law and Order's Christopher Meloni, aims to intensify the divide between humans and vampires by instilling the notion that humans are inferior and vampires were created in God's image.
Alan says it was Rick Santorum that was the inspiration for Roman.
"What's terrifying is how many people agree with him," he said of the ultraconservative candidate with the strong religious following.
Article continues below advertisement
OK! NEWS: TRUE BLOOD STARS ANNA PAQUIN AND STEPHEN MOYER EXPECTING A BABY
Alan also said this season will probably be his last, lamenting the all-consuming nature of creating 12 hour-long episodes. "It was a question of mental and physical health," he said, before talking about new projects he wanted to undertake.
"I have tons of things I want to write. I have a movie in development at Paramount – "The F Word." Elan Mastai is the writer – I read his spec script. It's a big commercial comedy," he said. "This movie I wrote, What's the Matter with Margie? is currently being financed. It stars Elizabeth Banks, directed by Dan Minahan, about a woman who has a bad day and starts fighting back."
Check out True Blood every Sunday on HBO at 9 p.m. ET.