NEWS
Politician Mike Huckabee Disses Natalie Portman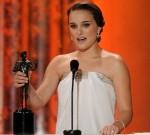 Former Arkansas governor Mike Huckabee has a lot to say about Natalie Portman that has nothing to do with her big Oscar win. Mike dissed the Black Swan star on a radio show regarding the "distorted image" Hollywood portrays when it comes to single motherhood.
OK! NEWS: NATALIE PORTMAN "WILL NOT BE ASSOCIATED" WITH JOHN GALLIANO AFTER "TERRIBLE COMMENTS"
According to E! Online, conservative talk radio host Michael Medved mentioned the "visibly pregnant" Natalie and the message she's sending. Mike responded, "You know, Michael, one of the things that's troubling is that people see a Natalie Portman or some other Hollywood starlet who boasts of, 'Hey look, you know, we're having children, we're not married, but we're having these children,' and they're doing just fine."
Article continues below advertisement
OK! NEWS: NATALIE PORTMAN SAYS HER BABY WAS "KICKING A LOT" DURING THE OSCARS!
Even though Natalie is indeed engaged, he said, "But there aren't really a lot of single moms out there who are making millions of dollars every year for being in a movie." He added, "And I think it gives a distorted image that yes, not everybody hires nannies, and caretakers, and nurses. Most single moms are very poor, uneducated, can't get a job, and if it weren't for government assistance, their kids would be starving to death and never have health care. And that's the story that we're not seeing, and it's unfortunate that we glorify and glamorize the idea of out-of-wedlock children."