NEWS
Pop Babylon: Two more 90's bands reunite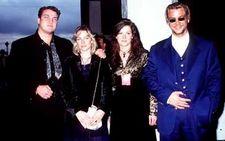 In the '90s pop ruled the charts. Two of the decade's biggest
sellers, the Backstreet Boys and the Spice Girls, have already gotten
back together and are putting out new music.
Now, two more
Scandinavian pop acts are hitting the road. Ace of Base, whose hits
included "The Sign" and "Don't Turn Around," announced a string of
European dates. The Europeans have no idea how lucky they are! "The
Sign" defined the '90s!
Article continues below advertisement
Danish pop act Aqua have taken it to the
next level, announcing not only tour dates but also a greatest-hits
album. And what greatest hits are we talking about? Um, "Barbie Girl"
and "Doctor Jones," obviously.
This is an amazing day in pop music! But come on, guys, show the U.S. some love and play a few shows here!