NEWS
The Pop Tart & the Player — a Love Story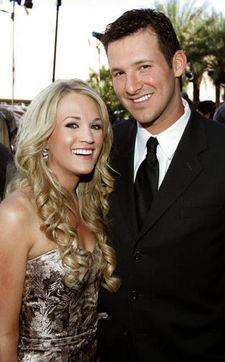 This past weekend pop wreck Britney Spears was spotted out with Dallas Cowboys quarterback Tony Romo — the same Tony Romo who once courted One Tree Hill siren Sophia Bush and American Idol-er Carrie Underwood.
Underwood, Bush and Spears aren't the only celebs who've fallen for footballers recently. Both Paris Hilton and Laguna Beach blondie Kristin Cavallari once locked lips with Arizona Cardinals QB Matt Leinart. And baby mama Bridget Moynahan and Gisele Bündchen did battle over New England Patriots star player, Tom Brady.
Article continues below advertisement
So why do powerful women love pigskin players? According to relationship expert and practicing psychotherapist Deborah Burrell, quarterbacks are "at the top of the food chain. They represent in our society the strongest, bravest and best."
And the chiseled chests don't hurt either. "They're at the peak of their physical fitness," she adds. "They are specimens to behold."
Plus, footballers "are able to be successful and have celebrity status in a totally different field," says Burrell. And for famous women used to competing with their mates, that can be very reassuring.
These women, says Burrell, are at the top of their game, so "it's important for them to be associated with men of equal or higher status."
Britney? At the top of her game!?