NEWS
Porta de Rossi Lost 82 Pounds While Battling an Eating Disorder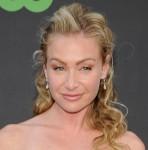 Portia de Rossi has confessed her struggle with an eating disorder, while starring in Ally McBeal back in the Nineties, brought her weight down to a skeletal 82 pounds.
The actress who is 5 foot and 8 inches tall, and currently weighs 168 pounds, tells Oprah Winfrey today that she developed anorexia after she moved from Australia to Hollywood right before making it big in McBeal, at one point ingesting only 300 calories a day, reports PopEater.
Article continues below advertisement
OK! NEWS: PORTIA DE ROSSI TAKES ELLEN DEGENERES' LAST NAME
"It wasn't that I was proud of it," she told Oprah, in an interview airing Monday. "But it was certainly a recognition for my self-control. I definitely had some pretty amazing willpower to get down to 82 pounds. And that's what I was holding on to. I didn't think about anything else."
Portia, who is promoting her new autobiography, Unbearable Lightness: A Story of Loss and Gain, reveals how important it was to her to lose weight and keep it off. "I would prefer to die than fail another diet," she says.