NEWS
Posh: "The Spice Girls Looked Like Drag Queens!"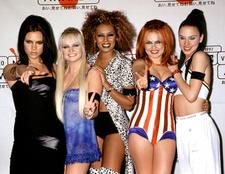 Back in the 90s the Spice Girls thought they were just about the coolest bunch of starlets on the planet.
Millions of fans were trying to their copy their Girl Power style and Ginger Spice's wardrobe, with her Union Jack dress and towering platforms, were an icon of Brit Pop cool.
But, looking back, things aren't quite a fabulous as they once seemed.
When Allure magazine recently showed Victoria Beckham a picture of her band taken at the 1997 MTV Video Music at the height of their fame, she said the Wannabe divas looked like guys dressed up a girls!
Article continues below advertisement
"Good God! This is the worst we ever looked," she told the magazine recently. "We looked like five men dressed as women!"
It's not even the, er, 'vibrant' outfits that make Victoria want to hide her eyes.
"Can you imagine getting any more makeup on your face?
"Rather than ever looking back at my clothes and cringing, I look back at the makeup and cringe.
"It looks like someone beat me up and pushed me onto the stage. I was probably about 19 years old then." (Try 23, Victoria).
But Posh singles out Geri Halliwell for special criticism. Well, at least some things never change!
"Look at Geri—what does she look like?"