NEWS
Posh Tops Worst-Dressed List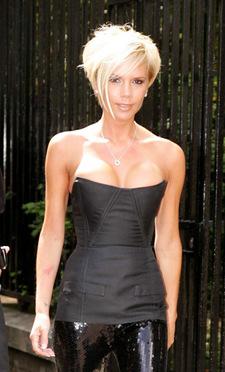 It seems that after doing this for 48 years, the infamous Mr. Blackwell has gotten gentler and kinder. The snarky style cop has spared Britney Spears from his latest roundup of Hollywood's biggest fashion offenders.
So who tops this year's list? Victoria "Posh Spice" Beckham! Why? Mr. Blackwell explains: "She wears skinny-mini monstrosities." Fair enough!
Also making the cut is British singer trainwreck Amy Winehouse, who is described as "part '50s car-hop horror." Also on there is mini mogul Mary-Kate Olsen (no Ashley). "She resembles a tattered toothpick-trapped in a hurricane," according to Blackwell.
Article continues below advertisement
Other bad dressers include: Fergie, Kelly Clarkson, Eva Green, Avril Lavigne, Jessica Simpson, Lindsay Lohan and Alison Arngrim.
Not just an ogre, Blackwell actually had some kind words for the ladies who don't appear to be color blind. That list of style superstars includes: Reese Witherspoon, Jemima Khan, Beyonce, Angelina Jolie, Helen Mirren, Nicole Kidman, and four variations on the name "Kate" — Katie Holmes, Kate Middleton, Katherine Heigl and Cate Blanchett.
So, still scratching your head as to why Britney didn't make the cut? "I felt that it was inappropriate at this time to make comment, when her personal life is in such upheaval. I hope 2008 is a better year for her."