NEWS
Posh's Date Night With TomKat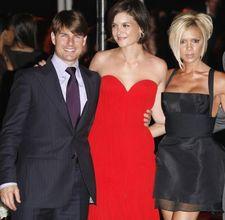 Celebs love the trendy West Hollywood restaurant Madeo for its private booths, good food and low-key atmosphere — (photographs are prohibited inside) and OK! is pleased to report that TomKat is no exception.
Just after 9 p.m. on Sunday night, Tom Cruise, Katie Holmes and Victoria Beckham (sans husband David) arrived for a late dinner at the favorite Italian eatery and OK! was there to catch it all!
Article continues below advertisement
"They snuck in through the back of the restaurant to avoid being seen," a fellow diner tells OK!. "Posh came in first wearing a black cocktail dress, followed by Katie Holmes and Tom Cruise, and the three of them were escorted to a booth in the corner of the restaurant."
Katie, looking very slim in a long black and white coat was laughing and smiling with her pal Posh as the two slipped side by side into the booth, followed by Tom who scooted around to the opposite end. "They were whispering and giggling like best friends," the insider reveals. "It was nice to see Katie smiling and looking and acting her age."
Dressed in a white dress shirt (open at the neck) and a black blazer, Tom was in good spirits too, conversing and laughing with the waiters.
"He kept pulling out his cell phone passing it around to Katie and Posh, who would crack up laughing when they saw it. It looked like he was showing them pictures of Suri," one server said.
Victoria is certainly making time for her friends these days, now that David has been travelling overseas with the L.A. Galaxy — (yesterday the soccer star was in Hong Kong).
Article continues below advertisement
On Friday, , Posh made it a girls' night out, meeting up with actresses Eva Longoria and Kate Beckinsale at the new L.A. eatery STK. The trio later hit up the Coco de Ville lounge, attached to STK, and Posh opted to wait in line for the bathroom, surprising club patrons.
"It was quite amusing," the witness says. "The door was locked, so Posh started banging to let the girl inside know someone was waiting — and then three girls all came out at the same time to see Victoria Beckham standing there. It was classic."
Hey, when a girl's gotta go, she's gotta go!
By: Katie Rhames