NEWS
The Power of Ten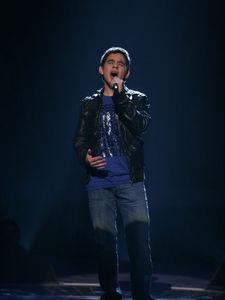 It was David's to the power of three as the 1960s gave way to a much-improved set of songs from the'70s last night and the guys put their own personal touches on the Me Decade:
Chikezie Eze: "I Believe To My Soul" by Donny Hathaway
Danny Noriega: "Superstar" by the Carpenters
David Archuleta: "Imagine" by John Lennon
David Cook: "All Right Now" by Free
David Hernandez:"Papa Was A Rolling Stone" by The Temptations
Article continues below advertisement
Jason Castro: "I Just Want To Be Your Everything" by Andy Gibb
Jason Yeager: "Long Train Runnin'" by The Doobie Brothers
Luke Menard: "Killer Queen" by Queen
Michael Johns: "Go Your Own Way" by Fleetwood Mac
Robbie Carrico: "Hot Blooded" by Foreigner
That electric guitar let David Cook bring out the rocker within, and David Hernandez clearly impressed all three judges with his vocal gymnastics. But it was David Archuleta who established himself as the show's frontrunner with his inspired take on Lennon's classic.
"Dog, that's one of the best vocals I've ever heard on this show," Randy raved, while Paula melted into an emotional mush. "David, you are ridiculous," she gushes. "I want to just squish you, squeeze your head off and dangle you from my rearview mirror." (We're not really sure what that means, either). And when Simon declared him the one to beat, that might have been a shudder from the 19 others who've been put on notice that the bar has been raised.