NEWS
Pregnant Angelina Jolie Wasting Away — Brad Pitt Begs Her To Gain Weight!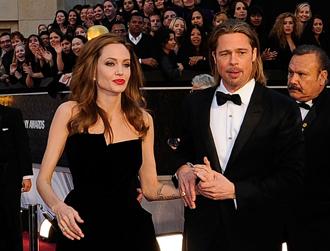 After Angelina Jolie's now-immortal hip-jut while presenting an Academy Award Feb. 26, all anyone has talked about is her vast expanse of exposed leg. But what about those toothpick arms?
Indeed, Brad Pitt is frantic, fearing his partner is too malnourished to bear their impending twins, sources tell OK!.
"It's really got Brad terrified," an insider says. It's a huge issue for them and it's got them fighting a lot. Brad's at his wit's end.
Article continues below advertisement
OK! GALLERY: BRAD PITT & ANGELINA JOLIE WALK THE RED CARPET AT THE 2012 ACADEMY AWARDS
In fact, "Brad gave Angie an ultimatum that she has to start eating for the sake of the twins' health," the source reVeals to OK!
The question is, will it be enough to break down the headstrong 36-year-old? "Brad needs to get her to start eating for at least one," a pal tells OK!.
Those close to the couple say Angie's weight issues set in after she and Brad worked — and hooked up — on the set of Mr. and Mrs. Smith in 2004.
"She's been extremely thin since the movie," says one source. "She's never properly put that weight back on."
Of course, Angelina has been here before, giving birth to twins Knox and Vivienne in 2008. She kept her weight up then by indulging in what she called her "family weakness" — high-calorie Hot Pockets, fast food and sweets. The megastar lost the baby weight as soon as she could — eating the same stuff, but much less of it.
Article continues below advertisement
OK! NEWS: COVER STORY: ANGELINA JOLIE & BRAD PITT — WEDDING EXCLUSIVE!
"When she went to Cannes eight months after the twins were born, she had the tiniest of curves in her hips and stomach," says the pal. "I think it was the most beautiful she's ever looked. But I don't think she felt that way."
Does Angie fear a replay — or will she put maternal instinct over vanity? "Brad is determined to see her gain some weight," the insider tells OK!. "And this time he's not going to back down."
FOR MORE ON BRAD AND ANGELINA, PICK UP THE NEW ISSUE OF OK!, ON SALE NOW!