NEWS
Pregnant Kourtney Kardashian: Mason is "So Excited" To Be a Big Brother!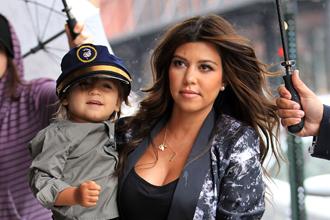 Article continues below advertisement
"He's really excited," the Keeping Up With the Kardashians star said of Mason. "Yesterday, he was talking about how he's excited to hold her and he's been like, recently obsessed with babies."
Kourtney, who is currently in New York with her beau Scott Disick and sister Kim Kardashian, is loving pregnancy this time around, althogh she admits she's having some crazy cravings!
"I remember when I first got pregnant with Mason… I wanted fruit and frozen yogurt and all this healthy stuff, and this time it's like cheeseburgers, sour cream and onion chips and double-stuffed Oreos," Kourtney admits to Rachael.