NEWS
Pregnant Miranda Kerr Poses Naked for 'W' Magazine's Family Issue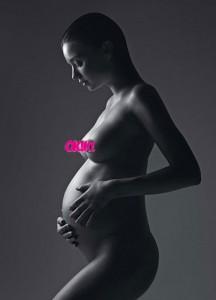 W Magazine is all about the nude photo shoots lately. First Kim Kardashian, now Miranda Kerr. The pregnant mom did a Demi Moore-esque pregnant photoshoot for the mag's December issue.
Looks like Miranda won't let pregnancy stop her from modeling!
Miranda appears in the spread for the mag's "family" issue which also features Jenna Jameson with her twin boys, the Fendi family, Madonna and Lourdes, and Usher with his family.
Article continues below advertisement
Her plan for the future?
"My goal involves a hammock, a vegetable patch, and a solar-powered house. And I hope to eventually get there," the supermodel, who is expecting her baby with Orlando Bloom, shared.
Katherine Heigl and her daughter Naleigh cover the issue.