NEWS
President Obama on Rep. Anthony Weiner Scandal: "If I Were Him, I Would Resign"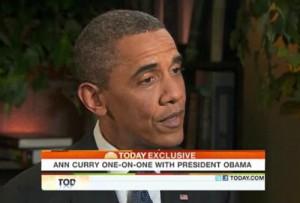 In an exclusive interview with the Today show's Ann Curry, President Barack Obama has addressed the scandal surrounding Rep. Anthony Weiner, offering his honest advice to the shamed congressman who recently admitted to acting inappropriately online with several women after a Twitter picture surfaced of him in boxer briefs.
"I can tell you that if it was me, I would resign,'' Obama told Ann.
Article continues below advertisement
The Congressman has been launched into the spotlight after the revelation of his indiscretions led to a media frenzy and the release of over 200 sext messages between Weiner and one of his lady friends as well as X-rated photos the politician had sent.
The scandal prompted the head of the Democratic National Party to call for his resignation and House Democratic leader Nancy Pelosi to demand an ethics committee investigation.
"What he did was highly inappropriate," Obama said. "I think he's embarrassed himself, he's acknowledged that, he's embarrassed his wife and his family."
He added: "When you get to the point where, because of various personal distractions, you can't serve as effectively as you need to, at the time when people are worrying about jobs, and their mortgages, and paying the bills — then you should probably step back."