NEWS
President Obama Sits Down in The Oval Office For a Chat With Prince Charles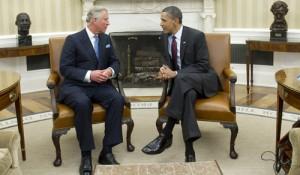 American just can't get enough of the British! President Barack Obama sat down with Prince Charles yesterday in the Oval Office for a casual chat and a friendly photo-op. Prince Charles is on a three day trip to the US and also stopped off to give a lecture at Georgetown University on sustainable agriculture.
The President reportedly congratulated Prince Charles on the wedding of his son, Prince William to Kate Middleton and asked him to pass on his well wishes to the newlyweds.
Article continues below advertisement
The President and his wife, Michelle Obama, are set to visit the UK later this month for a two day trip by the invitation of Queen Elizabeth II!