NEWS
President Obama Still Thinks Kanye West Is a "Jackass," Prefers Jay-Z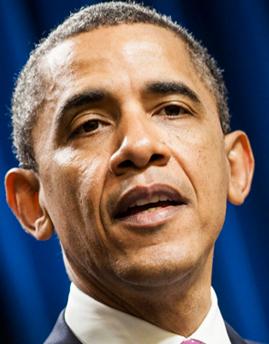 After Kanye West interrupted Taylor Swift's acceptance speech at the 2009 MTV VMAs, President Barack Obama called him "a jackass" during a sit-down with CNBC — an off-the-record comment that went viral. (You can hear the audio at CNN.com.) And he hasn't changed his opinion!
In the May issue of The Atlantic, the president is asked whom he prefers: Kanye or Jay-Z. President Obama picks Jay-Z. This time he concedes that Kanye is "talented," but still a jackass.
Article continues below advertisement
Well, that's... an improvement?
Anyway, we would say that President Obama is Team Jay-Z, but fortunately, we don't have to take sides when it comes to the two powerhouse rappers; they collaborated on an album, Watch the Throne, and toured together last year.
We're sure Jay-Z is busy with Beyoncé and new baby girl Blue Ivy, but we bet he'd get a kick out of the news. And, as for Kanye, well, hopefully he's too busy with Kim Kardashian to get too upset!