NEWS
President Obama Targets Youth Vote With Live MTV Interview Today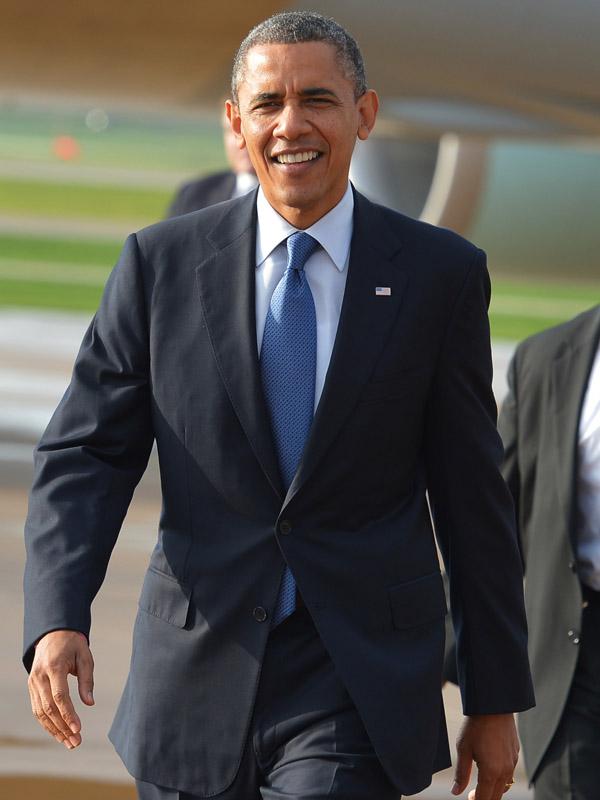 As Election Day nears, President Obama is doing all he can to get four more years in the White House and he is now turning his attention to the youth vote to garner their support.
POTUS is set to take part in a live MTV 30-minute special on Friday where young people can submit their questions either on Facebook or Twitter.
MTV News Correspondent Sway Calloway will sit down with Obama in the White House while "Power of 12" campaign spokesperson Andrew Jenks will be the on-the-ground reporter at a college campus in Washington D.C.
Article continues below advertisement
Andrew spoke to okmagazine.com about why he believes it's so important for Obama and Governor Mitt Romney to reach out to young voters with more than 45 million 18-29-year-olds eligible to vote this year.
Young people can submit questions for the President on MTV's Facebook page.
Ask Obama Live: An MTV Interview with the President will air live on Friday October 26 at 5pm ET.
OK!: Why do you think President Obama is targeting the youth vote by doing this MTV Live Special?
AJ: I would hope it's because of the power 18-29 year-olds hold in this election. 45 million young people are eligible to vote - the largest potential voting bloc in the country. If one of the candidates can really appeal to my generation this year and motivate them to get out and vote in some of these swing states, they can hold a serious advantage.
OK!: What are your views on both candidates?
AJ: I'm more focused on finding out what young voters think about the issues, and what they want communicated to both candidates. In my months on the campaign trail, it's oftentimes been very discouraging. A lot of people my age are disillusioned with politics in general. They are disillusioned with the system. With the media too. We live in a time when it is more important than ever for young people to be involved. And it sometimes feels like D.C is broken to the point that we don't even believe it can change. It's really sad. So I think it's up to us to step up and challenge candidates. I think we can. MTV has been inviting both candidates to speak with us - we're speaking with the President and we've invited Governor Romney to do the same and hope he accepts.
Article continues below advertisement
OK!: Why is it especially important for young people to vote this election?
AJ: Because we really have the power to make our voices heard. It's a difficult time for young people right now. The unemployment rate for people between 18 and 29 is 12 percent in the U.S., nearly 50 percent above the national average. The average student carries $40k of total debt and the College Board on Wednesday revealed new statistics on how college costs continue to rise. There are also some key social issues young voters are concerned with, including LGBT rights and immigration. There's an easy way for all of those issues to be pushed to the forefront of the national debate and that's for all 45 million young people to vote on November 6.
OK!: What is MTV's Power of 12 campaign about?
The "Power of 12" is about the unleashing our audience's power in 2012 and beyond, and giving politicians the opportunity to tap into that power. It is about giving my peers a megaphone to talk about the issues that are impacting our lives in order to help set the political agenda. I think Powerof12.org has all kinds of great resources on the candidates, voting - even a fantasy election.
Article continues below advertisement
OK!: What's it like as a young person to be on the campaign trail covering the election? Any fun or interesting stories/memories so far?
AJ: It's surreal. To be at the Conventions, the debates. To talk to political insiders. I am a nerd and love this stuff and I want to help get our concerns out there so it's something I take seriously. Traveling with the press corps can be a trip. I was on Mitt Romney's campaign plane as he celebrated a reporters' birthday during the primaries. We were on the plane and suddenly the lights dimmed. I got worried and then from the front of the plane I saw a bunch of candles. I was confused. Then I saw the Governor sing 'Happy Birthday' as he carefully held the cake and walked back to deliver the cake. I was really worried he was going to fall on his face, cake all over the place, and then talk about bad press. Or just weird press.
Submit your questions for President Obama HERE.