NEWS
President Obama's Smoking Habit Is a Thing of the Past!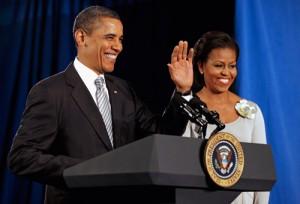 Way to go, Mr. President! Michelle Obama says her husband, President Barack Obama, has finally quit smoking!
OK! NEWS: BILL O'REILLY THANKS PRESIDENT OBAMA FOR SAVING FOX NEWS JOURNALISTS IN CAIRO
Michelle was asked on Tuesday whether Obama had finally quit smoking or not and she had some happy news to share.
"Yes, he has," she announced (via The Associated Press). "It's been almost a year."
But she didn't go into any detail, but did say "he's always wanted to stop."
Article continues below advertisement
"I constantly struggle with it," Barack said. "Have I fallen off the wagon sometimes? Yes. Am I a daily smoker, a constant smoker? No."
He said he didn't smoke in front of his kids or his family, but that "once you've gone down this path, then it's something you continually struggle with."
OK! NEWS REPORT: PRES. & MRS. OBAMA NOT INVITED TO ROYAL WEDDING OVER SECURITY COSTS
So now that he has quit, Michelle says she is very proud of him but doesn't speak about it.
"I haven't really poked and prodded him on this," she explained. "When somebody's doing the right thing you don't mess with them."
According to the AP, the government had hoped to drop the smoking rate to 12 percent by last year. But that goal has now been pushed back to 2020.
At least the President is leading my example now!