NEWS
'Pretty Little Liars' Season Premiere Recap: Mona Is Still Crazy, Alison's Body Is Stolen & 'A' Is Back!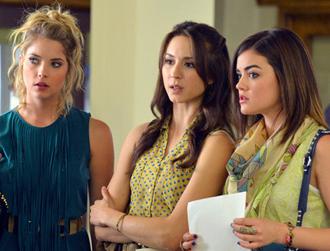 Fans have been waiting with anticipation to watch last night's season-three premiere of Pretty Little Liars, and boy, did it live up to the hype!
The previous episode had been a traumatizing one for Aria (Lucy Hale), Spencer (Troian Bellisario), Hanna (Ashley Benson) and Emily (Shay Mitchell), as they finally discovered that the one tormenting them as "A" was none other than social climber Mona (Janel Parrish).
Article continues below advertisement
Five months have now passed since that traumatizing night, and the girls have gathered together to reminisce about their summer apart. Emily, trying to overcome the heartbreak over her girlfriend, Mya, being murdered, took off to Haiti with her family to help build houses, while Spencer spent the time taking courses at Hastings College. Meanwhile, Hanna was busy learning to cook with boyfriend Caleb (Tyler Blackburn), and Aria was getting closer than ever to Ezra (Ian Harding) while also enjoying a competitive art class.
OK! GALLERY: SHAILENE WOODLEY, LUCY HALE, SHAY MITCHELL AND MORE TURN OUT FOR ABC FAMILY PARTY
But as soon as the girls are all back together in Rosewood, the trouble starts. The girls gather at Spencer's to catch up, and Emily drinks way too much. She just can't seem to get over the death of Mya. But then in the middle of the night, the girls discover that Emily is gone.
They somehow track her down to Alison's (Sasha Pieterse) gravesite, where Emily is just standing over an empty grave and she is still kind of drunk. It seems that somehow "someone" used Spencer's phone and got Emily to go to the cemetery. It seems that "someone" is trying to set up the girls to be seen at the empty grave where Allison's body has been stolen. Uh, oh. The girls make haste to Spencer's lake house and make everyone they know think that they have been there all night. Good call. But could Emily be hiding something else?
Article continues below advertisement
As the news about Allison's stolen corpse leaks out, the girls try to move on and not think about it. Viewers are treated to adorable scenes with Aria and Ezra as they talk about their upcoming anniversary and how they first met. It seems like the whole thing about Ezra being her former teacher is not as much of an issue anymore, but it seems Aria's parents have split. Was that a reason? Meanwhile, other than Emily, it seems like the rest of the girls' love lives are going along swimmingly.
OK! GALLERY: THE STARS OF PRETTY LITTLE LIARS DISCUSS 'A' ON GOOD MORNING AMERICA
Toby (Keegan Allen) has moved into a loft above the coffeehouse, but the bathroom still doesn't work yet, so both Spencer and the audience enjoy a nice scene of shirtless Toby. They almost succumb to passion, but Spencer has said that she wants to wait. A couple that definitely hasn't waited is Hanna and Caleb, who even likes talking about how they have been intimate. But will that continue when he finds out that Hanna has been visiting Mona in the mental hospital? After weeks of visits, it now seems that Mona is starting to respond to Hanna being there, but in reality she is just as crazy as ever, even seeing dead Alison sitting in a chair next to Hanna.
Article continues below advertisement
Meanwhile, Spencer keeps getting unknown calls and won't answer them. When she finally does, she discovers it is Garrett (Yani Gellman), who was arrested for Alison's murder. He tries to warn Spencer that they are all still in danger.
This is something that Spencer is well aware of, as she also keeps sneaking off to the motel where Mona created the lair for "A" and where she documented everything. But it is soon revealed that all of that was cleaned out the night that Mona was discovered. How? Mona was locked up! Spencer is trying desperately to remember what she saw in there. And if the room was all cleaned out, is there another "A"?
The girls all gather at the motel so Spencer can fill them in, when all of a sudden they hear Spencer's car alarm going off. As they run outside, they see all the doors are flung open, and the car is filled with photos of the four of them at the empty gravesite. Looks like they are being set up... again!
Could there be another "A"? And just like that, all the girls receive texts from "A"! Uh, oh!