NEWS
'The Price is Right' Host Drew Carey Ditches Carbs, Drops 80 Pounds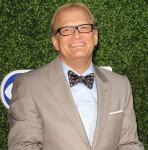 The Price is Right host Drew Carey debuted his new slimline physique on Wednesday night after dropping 80 pounds on a totally carb-free regimen.
The usually rotund comedian revealed his slimmer frame at CBS' Television Critics Association Party in L.A., where he was almost denied entry because of his transformation, reports ET Online.
OK! NEWS: JULIA ROBERTS' PIZZA DIET
"They didn't recognize me coming in here," the game show host said. "I went to park my car and they were like, 'Whoa, whoa, sir, sir.' I said, 'I'm with CBS on The Price is Right.'
Article continues below advertisement
"I kind of blew by him and parked downstairs. One guy came up to me and he goes, 'I'm really sorry about the confusion, you just don't look the same.'"
OK! NEWS: VALERIE BERTINELLI: "I'M AN EMOTIONAL EATER"
Drew experienced a similar situation at the airport in South Africa. "I went to the World Cup and I was going through passport patrol and people were looking at my passport and doing a double take everywhere I went," he said.
But Drew reveals he has yet to reach his goal weight. "I'm still working on it. I still have about 10 pounds to lose before I'm happy." Though he wouldn't reveal his current weight, he did the math and disclosed that he lost "at least 80 pounds."
OK! NEWS: KELLIE PICKLER "I GOTTA QUIT BEER AND FRIES"
How did he do it? "Absolutely no carbs, not even a cracker, no corn, nothing. No starches at all. Egg whites, nothing but water to drink. Steamed vegetables." He pairs his restricted food intake with "lots of cardio."