NEWS
Prince Harry Admits He's Struggling to Find Love as a Royal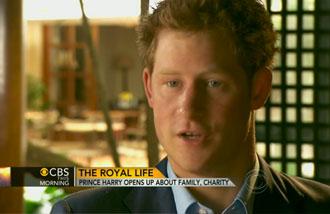 Article continues below advertisement
When asked on CBS This Morning if being a royal lived up to the fairytale image, Prince Harry laughed and admitted, "No, not at all... as any girl would ever tell you."
"It's sort of, 'Oh my God, he's a prince,' but no," Harry, who ended his five year relationship with Chelsea Davy in 2010, added of his seemingly perfect title. "The job that it entails — I mean look at me, I'm 27 years old, and not so much searching for someone to fulfill the role, but obviously, you know, finding someone that would be willing to take it on."
"There's a lot of times that both myself and my brother wish, obviously, that we were just completely normal," Harry confessed. "We've been born into this position and therefore we'll do what we need to do to help people and kids that need it. It really is that simple for us."
We hope one day Harry can find his own Kate Middleton. Pippa, anyone?