NEWS
Prince Harry and Chelsy: Back On and Stronger Than Ever!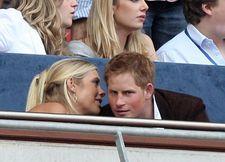 It looks like fighting the Taliban does have its advantages!
After spending 10 weeks in Afghanistan, 23-year old Prince Harry is heating things up again with his on again/off again girlfriend, Chelsy Davy.
In the wee hours of Thursday morning, the pair was spotted together for the first time in six months leaving the London birthday party of Harry's pal and former soldier.
Britain's The Sun is reporting that the couple was overheard laughing and joking inside the party as Bob Marley records played. At one point, Harry burst out with "happy birthday" before he and Chelsy, 22, left the party together at 4 a.m.
Article continues below advertisement
Before leaving for Afghanistan, the couple had agreed to a "cooling off" period in their three-year relationship after a series of fights. A friend of the pair said, "Before setting off for Afghanistan, it looked as though their romance was at an end. Chelsy was sick of all the rows."
So what brought the two back together?
"Harry still adores Chelsy and being away only underlined that," says a friend of the prince.
Since Harry's return on Saturday, the couple spent their first three days together at Prince Charles' Highgrove country estate and are planning a romantic Easter break in Chelsy's native South Africa.
"She has barely left Harry's side since he got home on Saturday," says another pal. "She has broken up early from university and it looks like they are enjoying a honeymoon period."
The young prince has also reportedly vowed to give up his hard-living ways.
"They still have a few issues to work through, but they look happier than ever," the friend continues. "He Harry wants to stay in the kind of shape he has developed since being at war. He is also keen to remain off cigarettes."