NEWS
Prince William and Kate Middleton: Wedding Tell-all!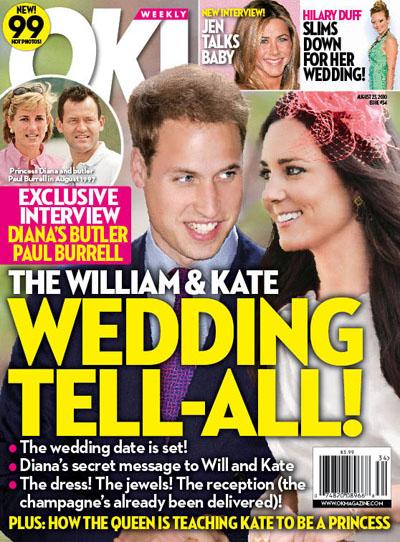 The William & Kate Wedding Tell-all: The late Princess Diana's butler, Paul Burrell, takes OK! behind palace doors to share his predictions for Prince William and Kate Middleton's wedding. Based on his experience working for Diana (and knowledge of the royal palace schedule), Paul offers the most likely date for the upcoming wedding, not to mention the location, flowers and Diana's advice for her son. Plus, find out who inherited Diana's engagement ring and how Kate's life would change as a princess.
Article continues below advertisement
Hilary Duff: Celebrity trainer Harley Pasternak describes how he's helped Hilary Duff slim down for her summer wedding to NHL star Mike Comrie. Down to the last detail, read about the actress' fitness routine and "I do" diet plan.
Jennifer Aniston: Answering media questions at a press junket at The Four Seasons in Los Angeles, Jennifer Aniston has reconfirmed her plans to become a mother. Read about why she chose to play a single woman seeking motherhood in The Switch.
The Gosselins: After his recent biweekly visit, former reality star Jon Gosselin had to calm down his children when they experienced a very tearful goodbye. Plus, more on how the divorced dad of eight has reformed his life and learned from his mistakes.
Fashion: At an OK! photo shoot, five of the hottest contestants from ABC's Bachelor Pad talk about attention-grabbing fashion. Check out how the Bachelor and Bachelorette castoffs felt about starring in this wild new show and what viewers can expect from this season.
Plus: The successful start to Madonna and daughter Lourdes Leon's new clothing line, Material Girl; President Obama's dinner with Oprah Winfrey; E! News host Giuliana Rancic reviews style setters at the Teen Choice Awards; Celebrity nutritionist Keri Glassman weighs in on Clean House host Niecy Nash's daily diet; Style gurus for stars like Hayden Panettiere, Scarlett Johansson and Rumer Willis reveal the secrets behind their hair makeovers; Extra's Terri Seymour catches up with stars like Jason Ritter, Blair Underwood, David Caruso and Christina Applegate; Celebrity red-carpet stylist Anya Sarre explains how to look as stylish as Cameron Diaz in a minidress; This week's hot trend — learn how to smolder like Vanessa Hudgens in smoky eye makeup; A lesson in slimming down while enjoying Italian cuisine from Bravo's Real Housewives of New Jersey.