NEWS
Prince William & Kate Make Plans to Shack Up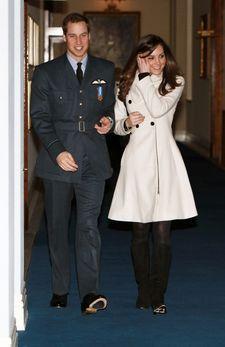 Heir to the British throne Prince William and his girlfriend Kate Middleton are moving one step closer to marriage as they're in the middle of making plans to move in together. Looks like the eldest son of Charles and Diana has his eye on a refurbished house at a Royal Air Force base where he's earning his wings as a helicopter pilot.
The 26-year-old and his gal-pal had been making plans to rent a home from a friend of the royal family, but it looks like security issues derailed that idea. So now he and Kate will be shacking up at the military base in Shropshire, UK, until September.
Article continues below advertisement
At that point, Billy boy will get some more hands-on experience at real-life air-sea rescue bases around Britain.
"Kate is thrilled that after all the waiting she and William will finally have a grown-up life together," a family friend says. "She sometimes feels like they're the world's oldest teenagers still living with their parents."
Officially, only William will be registered as living at the newly-decorated RAF?quarters but Kate will be able to stay overnight as often as she likes.
An aide said: "Married quarters are formally for married couples... But the prince is, of course, allowed visitors and officers are allowed to live off base in secure accommodation."
Kate and William have not shared a home together since they were both at the University of St Andrews in Scotland, where they rented a cottage with friends.