NEWS
Prince William & Kate Middleton In Their Own Words: "We Had a Laugh & Things Happened"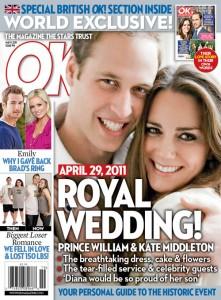 April 29, 2011: an exciting day for royal lovers everywhere. As the world, obsessed with every aspect of the nuptials, celebrates, OK! exclusively brings you the story behind the love affair of Prince William and his bride, Kate Middleton — in their own words.
Here, Prince William reveals all about his perfect future princess: her sense of humor, her family and the moment she met the queen.
Article continues below advertisement
Kate's got a really naughty sense of humor... ...which kind of helps me, because I've got a really dry sense of humor, so it was good fun. We had a really good laugh and then things happened. We moved in together as friends, with a couple of others, as well. I knew there was something special about Kate. I knew there was possibly something that I wanted to explore there.
We'd talked about getting engaged. I'd been planning it for a while, but, as any guy out there will know, it takes a certain amount of motivation to get yourself going. It just felt really right out in Africa. It was beautiful at the time. I had done a little bit of planning, to show my romantic side. It was on holiday in Kenya. We had a little private time away together with some friends and I just decided it was the right time, really. I took her up somewhere nice and I proposed.
Article continues below advertisement
The ring is very special to me. As Kate's very special to me now, it was right to put the two together. It is my way of making sure my mother didn't miss out. It's my mother's engagement ring, so I thought it was quite nice because, obviously, she's not going to be around to share in any of the fun and excitement of it — this was my way of keeping her close to it all. I'm not an expert. I've been reliably informed it's a sapphire with some diamonds. But I'm sure everyone recognizes it from previous times. No one is trying to fill my mother's shoes. What she did is fantastic. It's about making your own future and your own destiny, and Kate will do a very good job of that.
Kate Middleton, on how she's looking forward to having a happy family and taking the royal lifestyle in her stride.I went bright red when I met him. I sort of scuttled off, feeling very shy about meeting him. It did take a bit of time for us to get to know each other, but we did become very close friends from quite early on.
You do get to know each other if you go out with someone for quite a long time. You go through the good times, you go through the bad times. Both personally and within a relationship. I wasn't very happy about splitting up with William but actually it made me a stronger person. You find out things about yourself that maybe you hadn't realized.I think you can get quite consumed by a relationship when you are younger, and I really valued that time for me as well, although I didn't think it at the time.
Article continues below advertisement
The proposal was very romantic. We were out with friends and things, so I really didn't expect it at all. I thought he might have maybe thought about it, but it was a total shock when it came. I'm very excited. The ring is very, very special. I just hope I look after it.
My mum was over the moon. We actually had quite an awkward situation because I knew that William had asked my father but I didn't know if my mother knew. But it was amazing to tell her and obviously she was very happy for us. I hope we will be able to have a happy family ourselves.
CHECK INTO OK! TOMORROW MORNING STARTING AT 5:30 AM EST FOR THE LATEST ON THE ROYAL WEDDING!
FOR MORE ON WILLIAM AND KATE'S OWN STORY, PICK UP THIS WEEK'S ISSUE OF OK! ON SALE EVERYWHERE NOW!