NEWS
Private Funeral for Marie Osmond's Son Held Today in Utah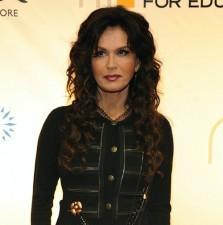 The private funeral service for Marie Osmond's 18-year-old son was held today in Provo, Utah — about 35 miles south of Salt Lake City. Michael Bryan was remembered by his family and close friends as funny person who taught those around him about the importance of giving back, the Associated Press reports.
Approximately 450 people attended Michael's services. Marie, brother Donny Osmond and five of their siblings sang a hymn as part of the funeral ceremony.
Article continues below advertisement
Michael, the fourth of Marie's eight children, died Feb. 26 after jumping from the eighth floor of his L.A. apartment building.
Michael was one of five children adopted by Marie. He previously went by his adoptive father's last name, Blosil.
Days before his death, Michael legally changed his last name to Bryan.
The reason for the name change remains unknown, and there are still many unanswered questions. Autopsy results remain inconclusive as well.
Michael left a suicide note for a female friend who lived in his apartment building, shortly before he jumped to his death.
In the note, he admitted that the woman was his only good friend in L.A. and he was very unhappy.