NEWS
'Project Runway All Stars' Recap: Fashion, Drama and the Four Seasons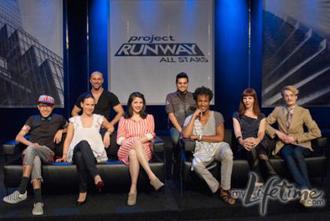 On last night's episode of Project Runway All Stars, nearly every designer we expected to land in the top landed in the bottom, and one that we banked on taking it to the finale of the Lifetime show was sent home.
Our all-stars were charged with creating looks worthy of a weekend getaway for one of four seasons. The twist: it would be a fashion face-off.
Article continues below advertisement
Spring: Austin Scarlett vs. Kara Janx
Summer: Kenley Collins vs. Mondo Guerra
Fall: Mila Hermanovski vs. Rami Kashou
Winter: Jerell Scott vs. Michael Costello
It was a cold, bitter winter in the workroom without Anthony L. Williams. Jerell accused Michael of copying his look. Joanna Coles also remarked on the similarity and invited everyone over to discuss it. This was awkward moment number one. Awkward moment number two came in the break room, where Mondo and Michael were eating spaghetti and discussing Jerell only to be interrupted by Jerell himself.
Article continues below advertisement
To the runway!
Top: Kara. Kara made white pants, a purple top and a gray sweater. And you don't need a picture to see that any better. The colors worked great, but there was no design. Angela Lindvall said "she kind of sneaked her way into the top because Austin went a little nutso this time."
Bottom: Austin. The best we can say for Austin is that he really embraced his concept of spring. His model looked like a preschool teacher hosting an Easter egg hunt.
Top: Kenley. We like Kenley's aesthetic but thought she didn't have a prayer going up against Mondo. Kenley's one-piece jumper was cute, but not exciting.
Bottom: Mondo. This was one of the most heartbreaking judgings in Runway history. Mondo's ensemble was supposed to be a gift for his mother, since he was missing her 60th birthday. He created striped shorts and polka-dot top. We loved the addition of the skinny neon yellow belt, and thought Mondo hit it out the park again with his uncanny ability to mix prints. But guest judge Cynthia Rowley was troubled by his styling, saying that it was a little '50s and a little '80s. Is there a fashion law dictating that you can't mix decades and inspirations?! It was awful watching Mondo get emotional but try to keep it together on the runway, and his audible sob from behind the partition before everyone exited was the most soul-crushing thing we have ever heard.
Article continues below advertisement
Top: Mila. We liked her cape, but we've seen that exact cape before, and her pants were crap. But her overall look was better than Rami's.
Bottom: Rami. The judges flipped for Rami's royal blue wrap jacket, but thought the lime green top underneath didn't go with it, was ill-fitting, and had an overly draped neck. We begrudgingly agreed.
Top: Jerell. Jerell's coat was amazing. It is cold here in New York, and we would love it if Jerell made one of those coats for each of us. Isaac Mizrahi said he didn't like the big buttons. Nonsense! We loved them. We really liked his whole look but that coat was a showstopper.
Bottom: Michael. His look did echo Jerell's in color and pattern, but we didn't think the similarities made it a copycat.
WINNER: Jerell
OUT: Rami
OK! NEWS: TIM GUNN HAS NOT HAD SEX IN 29 YEARS!
The loss of Rami's talent is especially tough on us since we're still reeling from the loss of Anthony from last week. The guy defines sparkling personality, and the show is a lot less fun without his wit. Like Anthony, Rami was all positivity upon his exit, saying, "The universe will take care of me in its own way." And apparently it did! Did you know Rami designed the six roman gowns that opened Madonna's half-time show at the Super Bowl?
Who do you expect to be in the top three? How much longer do you think it will be until Kara finally goes home (she's nice, but she's failed to excite)?