NEWS
'Project Runway' Premiere Recap: A Times Square Anniversary Party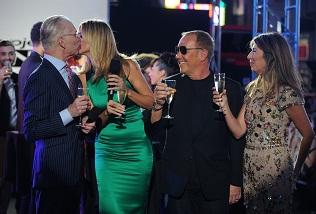 Project Runway is back!
Our beloved PR recently celebrated its 10th anniversary with a runway show in Times Square featuring the 16 then-unknown designers of the tenth season, and we got to see the action unfold on TV last night. We're thrilled that Lifetime decided Project Runway should begin with a bang (a run-of-the-mill runway show for the 10th season premiere? So not Heidi Klum's style).
After a glimpse of the chaos in Times Square, we backtrack to the designers' arrivals, but before you know it, Tim Gunn is presenting the challenge and the contestants are getting to work. (Was it us, or was the pace of this premiere scores better than recent seasons?) The designers each brought one runway-ready look that defined their aesthetic with them, and were challenged to create a companion piece. They had 1 day and $100 dollars. Tim, rocking a plaid suit, lilac shirt and dotted tie (proving you can, in fact, mix patterns!), tells them what we already know: this show is taking place in front of thousands people in Times Square.
Article continues below advertisement
OK! NEWS: HEIDI KLUM ADMITS SHE IS A FAN OF KATIE HOLMES
As they work, we learn a bit about each designer: who lives with their parents, who defied their parents and chased their design dreams, and of course, whose egos are going to clash — Season 9 reject Gunnar Deatherage and master fabric manipulator Ven Budhu are our early guesses. Gunnar also took issue with Christopher Palu, but we're not sure why. "I just don't like Christopher," he said at least three times. (Or at least, they played him saying that at least three times). Gunnar admitted he thought Christopher's "personality" was too similar to his, but we don't see it yet. In fact, we like Christopher considerably more.
Let's get to Times Square! Heidi and Tim are joined by Michael Kors and Nina Garcia, as well as Gilmore Girls alum Lauren Graham and costume designer Patricia Field. We're going to focus on the top and bottom three, because we think the judges got it right, but we will say this: every piece that came down the runway had a point-of-view, which is more important to us than being "wowed." Some pieces, like Buffi Jashanmal's slutty witch costume and Kooan Kosuke's crazy homemade doll overalls, we didn't like, but we weren't bored. Viewer boredom doesn't come from not liking the looks — it comes from not seeing any inspiration in the work
Article continues below advertisement
Judging!
The bottom: Kooan's designs may have received cheers from the crowd as they went down the runway, but they were completely unwearable. "She's borderline Teletubby," Michael said of the model in Koonan's original piece. He was warned: make sure your designs are not jokes. In deliberation, everyone except Heidi pretends Kooan might be worth their time. Heidi saves him. We're not surprised, given how this lady feels about Halloween. If this is all Kooan has to show, we predict he will auf'd by episode 3.
Lantie Foster made two fancy Little House on the Prairie-type dresses. During the runway show, Lantie noted that her second look didn't "look as horrifying as it did in the workroom." But it did. And in case she was still deluded, Nina smacked her back into reality. "Oh my God. It is horrifying," she said. Sheesh, did she see the tape?
Beatrice Guapo, who made a drab knit cape and three other boring-but-not-hideous pieces, ended up being the first to go. Earlier, she noted that Project Runway is "hard" and lamented about her sewing skills. During her critique, though, we learned that Heidi has a Snuggie, and she loves it. We bet it's leopard-print. So long, Beatrice! We want to see workmanship!
Article continues below advertisement
OK! GALLERY: BLAKE LIVELY IS ELECTRIC IN YELLOW WITH TAYLOR KITSCH AND JOHN TRAVOLTA AT NYC'S SAVAGES PREMIERE
The top: Melissa Fleis let us know that she likes black (and when she's feeling crazy, black and white). We like black, but the details don't always translate on TV, and we were so glad Heidi and Lauren noted this! That said, we loved Melissa's looks. The asymmetry was more daring than we are used to seeing, and they were dramatic without looking over-the-top. Heidi said she would wear both and so would we (just not next to Heidi).
Ven's pantsuit and dress were gorgeous, technically. We're not sure about those pants and the companion dress was essentially the same as one he showed in his audition, but we still liked the pieces and appreciated the craft that went into them.
And the winner: Christopher! We're not sure she should have won, given that crazy zipper mishap with the companion piece, and we can't believe Heidi didn't comment on the fit in the chest on the gown. But about that gown… the movement was almost mesmerizing on the runway. In any case, he deserved to be in the top, and we're excited to see more.