NEWS
'Project Runway' Recap: It's My Way on the Runway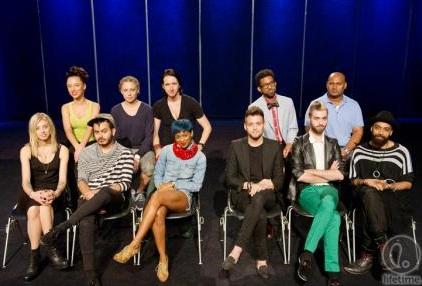 We open with what seems like an extra-long flashback of last week's episode, probably because it was the last time we'd get to hear Buffi Jashanmal's amazing accent. But don't get too upset! OK! is thrilled to announce that Buffi will be one of our guest bloggers on Fridays! Look for Buffi's Bootcamp later today — she will be discussing Project Runway, health and fitness tips, fashion and whatever else her little heart desires. So, we still get to hear her voice, just in a different way.
Article continues below advertisement
Featured in this week's episode is another team challenge. The designers are tasked with creating a capsule collection of professional — yet editorial — women's wear. The winning team's looks will be featured in a spread for an upcoming issue of Marie Claire at Work. Nina Garcia, clad in a fabulous white jacket, tells them the news, which hopefully softened the blow of seeing Heidi Klum step out with that damn button bag.
Article continues below advertisement
In the end, the teams look like this:
Team 5 (five designers): Nathan Paul, Ven, Christopher Palu, Fabio Costa and Gunnar Deatherage
Team 6 (six designers): Sonjia, Elena, Melissa Fleis, Dmirtry Sholokhov, Alicia Hardesty and Raul Osorio
After a chaotic shopping trip to Mood, everyone heads back to the workroom, where it is discovered that a bag is missing from Team 6. It contains wool Elena was going to use to make another giant jacket. Oh, wells.
While Team 6 is arguing, Team 5 is practically whistling while they work. Tim Gunn (yay, Tim!) drops in to see how everyone's doing. Team 5 is using black, white and a purple-pink-turquoise print that we really don't like. They don't seem to have any real problems though. Even Gunnar and Christopher appear to be getting along. Also, Ven, Nathan and Christopher have been dubbed "silk chiffonsies" because of their pension for the material. We love this.
Article continues below advertisement
Team 6 gives Tim a glum "hello." They're miserable. Elena is cursing at everyone, Raul is making an ugly blouse with what Gunnar rightly describes as "fish fin" ruffles, and apparently everyone hates navy blue, which Dmitry is using in his color-block dress. We don't understand the navy hate. We do understand the frustration with Raul and Elena.
"Everyone hates Elena," Dmitry says. "Even if they say they like her, they hate her." Can we please have more of Dmitry's commentary? He is unintentionally hilarious. Another shining example: "He is a one-way monkey," Dmitry said of Ven. "Wait. A one-trick pony, that's what I meant."
Article continues below advertisement
On to the runway! Joining Heidi, Nina and Michael Kors this week is the fabulously classy editor-in-chief of Marie Claire, Joanna Coles.
Team 5
Nathan's outfit consisted of a matronly one-shoulder blouse and pants that no one would ever wear — ever. Christopher, meanwhile, made that print look fresh and modern, using the same technique for the skirt that he used for his Times Square dress. We would wear this. Gunnar's dress is just not something you'd wear to the office. Heidi said it made the model look like she had "souffle boobs" before also calling it "inappropriate." Michael went nuts over Fabio's black-and-white dress. We thought it was ok. We did appreciate that the pattern on the back was different from the one on the front; that kept it from being too predictable. We're not digging the headwrap, but we can forgive it. It is definitely the most wearable garment on the runway in terms of age range, which was smart for the team to think about. Finally, Ven's look is the only other one we would wear as is — the architectural elements were beautiful, and kudos to him for not using that icky floral print.
Team 6
They were the winners for us. This team had the only two looks we really loved: Melissa's dress and Dmitry's dress. We really hope Melissa works with color more in the future, because she quite obviously knows how to pick them. That blue was electric and still somehow sophisticated. The high neck and asymmetrical zipper were perfect touches. Edgy, but not too dramatic. Dmitry's black-and-navy color-block dress was perfectly made, and we loved the peek of skin in the back! We agree with Joanna though, you couldn't wear it to work. That's okay, though, that's what jackets are for. This would have been a great day-to-night look. Elena made one decent jacket and one hideous jacket. We thought the crotch on Alicia's wide-legged pants was a little weird, but no one else mentioned it. Considering who was there, we will assume we are wrong. She also made a skinny pant. We love that she thought about versatility. Sonjia's pencil skirt and draped skirt were both nice, especially the latter. The top Raul made for Sonjia's draped skirt was fine, but nothing special. And the fish-fin-ruffle blouse is just... exactly how it sounds.
In the end, Melissa is deservedly declared the winner, and Team 6's looks win the Marie Claire spread. Raul is auf'd for the second time.
We want to know what you thought! Who would you want on your team? Sound off below, or Tweet me @reallylsass.