NEWS
Project Runway Secrets Revealed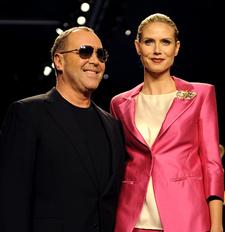 Although the final designers' collections from Project Runway were shown this morning during Mercedes Benz Fashion Week in NYC, the show still doesn't have an air date after wrangling between the Bravo and Lifetime Networks.
In the meantime, certain secrets about the show came to light this morning, when a few models who were in the show revealed to OK! that there will be three finalists, all of them women, and two of them blonde.
Article continues below advertisement
Doesn't make for much information until the season starts, but the guy designers apparently have no hope of a win this year.
That magic number of three finalists was a relief to Season 4 winner Christian Siriano, who says Heid Klum told him there would be a whopping 10 collections shown from the contestants!
"I thought it was going to be like ten shows coming down the runway," he says. "Heidi) told me that too. She lied. She's got to twist the stories."
Christian liked the third collection best, adding, "I thought there were pieces I could do without but I thought they were really strong."
Judge Nina Garcia, however, wouldn't pick a favorite, but did reveal that the winner would be chosen today.
"We're judging this afternoon," she tells OK!, adding that they didn't have any information as to when the show would premiere.