NEWS
Project Runway Star Gets Away With "Cat Fight"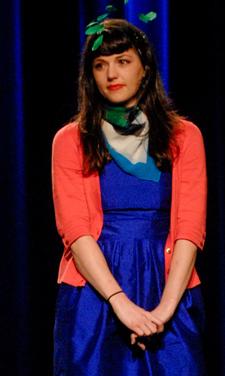 It looks like Kenley Collins has got as many lives as the cat she was alleged to have hurled at her fiance.
The Project Runway star was originally charged with felony assualt for lobbing the kitty at Zac Penley at their New York apartment.
But today she walked out of court with nothing more than a $120 dollar fine and a two-year restraining order.
The moody designer was allegeded to have chucked the feline at her now-former fiance, Zak Penley, while he was asleep last month -- followed by a computer, a few apples and some water.
Article continues below advertisement
At an earlier hearing she pleaded not guilty to the second degree felony assault and argued that she'd just set the cat down on a comforter -- so a Brooklyn judge told Kenley that the charge would probably be reduced to a misdemeanor.
But she got away even more lightly than that.
According to E! News, Kenley was allowed to plead guilty on April 14 to a count of "disorderly conduct" -- which is considered a violation and not a crime, so it won't go on her record.
The judge gave her a $120 ticket and an order that stops her from having contact with her former fiance for two years.
The site reports that the district attorney said the sentence was reduced because Penley received no medical treatment and the cat did no serious injury to him.