NEWS
Queen Latifah Reveals Passion For Pink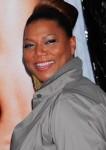 Queen Latifah takes OK!'s Culture Vulture interview in the issue on newsstands now. The actress, 40, stopped by Sirius XM Radio's Artist Confidential Series to dish. Her movie, Just Wright, is in theaters now.
This is what you won't find in the magazine.
Favorite celebrity?
When I was growing up, I liked Prince. He was hot, and he made some sexy music. He had some amazing harmonies, beats and hooks. He was one of the first entertainers that I found out about that played multiple musical instruments, which inspired me, and let you know that you can do a bunch of different things, and not just one thing per se. That seems to fit my personality.
Article continues below advertisement
Prince is still pretty much in the top five, too. He's holding strong after all these years.
I also like Pink. She's one of the best singers in the music business, period, right now, with the acrobatics. She puts a lot of energy into it. It seems like it's going to be an energetic, passionate show. I like people who perform and connect with the audience. That's really what I look for when I hear a live show – some way that the entertainer or the band connects to the audience by just being passionate about what they're doing.
Favorite album?
It would be a tie between Sign of the Times by Prince and Thriller by Michael Jackson. They're just monster records. They gave you big records, they gave you moves, they gave you joy and sadness at the same time. I remember Prince's Adore being one of the biggest records ever, and at the same time, my favorite record on that album is probably The Ballad of Dorothy Parker or If I Was Your Girlfriend. Songs that are a little darker and more interesting in terms of production. They gave you a lot of different choices. They had a song for every mood. Damn, did I leave Stevie Wonder out? It's not a fair question – it's just not. I'll leave those for now.
Article continues below advertisement
Favorite thing to collect?
I seem to collect a lot of Italian furniture. Italian accent Because the Italians, they make things with quality, and the fabric – it's beautiful. And plus, I like things that take me at least two months to get. It's wonderful. You can fly it in on a plane, rather than wait for it to be delivered by cargo ship. It's great. And I like good Italian food. ends accent
No, I collect a lot of musical instruments, too. I can't play anything proficiently, but I swear I can play everything. I've got about four drum sets, eight guitars and basses. I've got a trumpet, a flute, some other weird guitar that I don't even know the name of. I just like instruments. I like to bang on things – percussion and some bongos and Conga drums. I'm nutty like that. Keyboards. I need to get a piano though. I just shack up on my mom's piano – that's all.
Here's my pic with Queen Latifah:
Pick up the OK! on newsstands now for the rest of Queen Latifah's Culture Vulture interview. The cover line is "Rob Tells Oprah: 'Kristen's Pregnant!'"