NEWS
Queen Latifah, Stephen Baldwin Join The League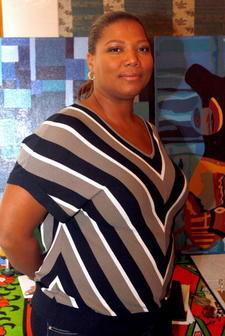 Queen Latifah and Stephen Baldwin give back during The League National Awards and Recognition Luncheon, which takes place at Hudson Terrace in NYC. The community service organization empowers youth to make a positive difference.
Stephen lights up when he hears I'd like to speak with him for OK! "Oh neato!" he says.
The father of two is here on behalf of the President's Council on Civic Participation and Volunteerism to present the presidential volunteer award.
Article continues below advertisement
"I certainly would not have been the recipient of one of the awards I'm giving today," Stephen tells me. "I was a bit of a hooligan, but not too bad. For me, I've been very blessed in twenty years. My dad was somebody who was a civil servant – a schoolteacher for thirty years. My brothers and I … most of us learned from that. For me, now, there is an importance as a dad to understand the importance of giving back and supporting others."
He is very proud of his daughters Alia, 14, and Hailey,11.
"My two daughters are both diligent little students and focused on their ballet, which they enjoy very much. And they're driving me a little crazy. It's teaching me a lot of patience, humility and love."
Host Queen Latifah is proud of her Newark, N.J., upbringing.
What does she like to do when she visits?
"Just chill," she tells me. "I go see my family, I hang out with my family and my friends because everybody's still local. Obviously my sister is a bartender at a place, so I'll go out, hang out and have some drinks over there. Wherever. I go to my family's house and visit them. Whatever. Go to the store, buy some music, t-shirts, whatever kind of stuff that is a little harder to find outside the area."
Article continues below advertisement
When she's in L.A., she takes advantage of the warm weather.
"To me, summer's all about water. I'm a Pisces, I'm a water baby, and I just like to be out. Fun in the sun. If I can get to the beach, I've got a pool, luckily I have a pool in my backyard so it's been about having family barbecues, making sure the kids can come over and swim and all my relatives and friends and stuff. Getting to the beach, getting in the ocean, just being active. Summer's totally about being active and just having a good time because the weather doesn't stick around for too long. You've gotta take full advantage of it."
Pick up the OK! on newsstands now for more Queen Latifah. Shiloh: "I Want My Baby Sisters!" is the cover line.
The League is a youth-service organization created by business, education, government, media, non-profit leaders and youth. It provides free resources for teachers to engage students in making a positive difference in their community. Visit theleague.org for more information.