NEWS
Queen Latifah Vows to Get Fit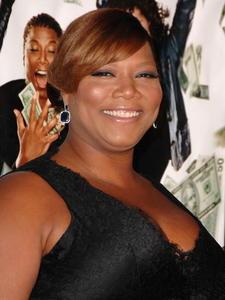 Queen Latifah may be the latest Jenny Craig spokesperson, but don't expect her to become a skinny minnie like former promoters Kirstie Alley and Valerie Bertinelli. Instead, the Queen wants to use the program to get fit and inspire others to do so as well.
"I'm taking the first step toward a healthier lifestyle," Queen said at a press conference at the Regent Beverly Wilshire Hotel. "I'm getting calls from everybody in my family and a lot of my friends who are really excited and want to do this with me."
Article continues below advertisement
For the 37-year-old rapper/actress, being healthy is of utmost importance after losing her great-grandmother to diabetes. "Losing five to ten percent of my body weight is a good challenge for me, to be healthier and not to be so concerned with diabetes."
Queen does want to stress, though, that signing up with Jenny Craig "is not about a body image sort of thing" as she's completely comfortable and "confident" in who she is.
MORE ON:
Valerie Bertinelli
"I think everybody knows that about me," she says. "But I do realize I'm a role model to a lot of people… being a healthier person is a good thing. If I can set the example of confidence from the inside, why not set it for confidence from the outside as well?"
The star, who has tipped the scales at about 200 pounds in the past, doesn't feel she'll be depriving herself with Jenny Craig. "It's good food!"
And you'll still see the same Queen you know and love, she promised. "I do not want to get skinny. I do not necessarily want to fit into a bikini, but a tankini could work! I don't mind looking sexy."
By Carole Glines