NEWS
R-Patts' New Dreamy Character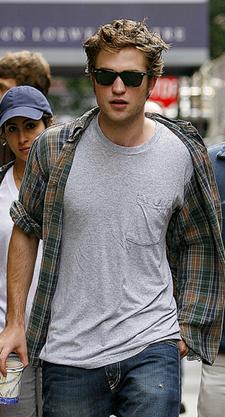 Poor Robert Pattinson. By playing Edward Cullen in Twilight, the vampire that launched a million crushes, this handsome Brit is bound to have adoring fans wherever he goes these days. And by the looks of it, his character Tyler in Remember Me, filming now in NYC, will do nothing to dissuade girls everywhere from crushing on him.
Despite the movie being set in the 90s, his character in Remember Me, a romantic drama, basically gets to wear the usual Rob uniform: jeans, white T-shirt, plaid shirt, while smoking cigarettes.
Article continues below advertisement
In the film, Rob plays a young man who has just lost his brother to suicide, splitting up his parents and taking the joy out of his life. Co-star Emilie de Ravin plays his love interst, a woman who see her mother killed in front of her.
ROB ON SET:
Rob and co-star Tate Ellington have already worked on a scene where they're at college, as they've shot at locations around NYU, where the plot calls for Tyler to notice Ally, Emilie's character.
The college setting is sure to set the stage for the male characters to discuss love and life in the big city, with Emilie perhaps providing a love triangle.
Today the two will be filming the scene where their characters finally meet in a school lounge.
So there's Rob, dressed in his usual young, brooding actor outfits, wooing a young woman in the big city... cue the sighs of jealous women everywhere.