NEWS
R-Patts: Non-Kiss Acceptance Kristen's Idea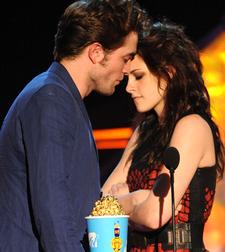 Jun. 1 2009, Published 9:31 a.m. ET
View all comments
While fans waited with bated breath last night to see Robert Pattinson and Kristen Stewart re-enact their winning Best Kiss from Twilight, the onscreen duo had a little trick up their sleeves... no thanks to Rob!
"The acceptance was Kristen's idea. My ideas were so terrible they were rejected," he tells Entertainment Tonight of their non-kiss. "So I'm happy she helped me two minutes before it happened."
Article continues below advertisement
Kristen's not shy about owning up to her plan either, adding, "That was my big idea. I'm not going to kiss you!"
Even co-star Peter Facinelli says he's going to get a piece of the Best Kiss award, and all the others, as the cast is going to pass them around.
"We'll share them! Everyone gets them. Every week we trade off. I get to have the best kiss for one week," Peter explains. "We're all one big happy family."
Robert adds lightly, "We're just going to smash them."
However, Kristen has almost gone down that road already, accidentally dropping her popcorn trophy for Best Female Performance.
"I already broke my award, it's really embarrassing," she jokes.
TWILIGHT AT THE MTV MOVIE AWARDS:
Meanwhile on Team Jacob, Taylor Lautner is pretty blown away after seeing the trailer for New Moon so soon after filming the movie.
Article continues below advertisement
"It's really cool! We had a blast making the film and we just wrapped. So now that the trailer is already coming out, it's really cool to be able to see it for the first time," he says. "
And as for those devoted fans, some of which came from Australia and Germany just to catch sight of their favorite stars, Taylor seems honored to be in the limelight.
"We were just making this book series and we hoped some fans would enjoy it and they did," he admits. "Then it kind of exploded from there and here we are!"