NEWS
R-Patts "Smells Like Roses"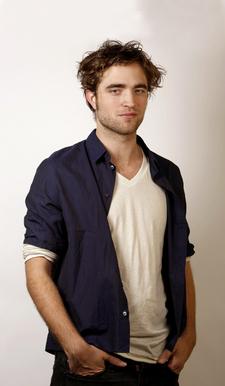 Well thank goodness--it turns out Robert Pattinson may not stink after all.
Straight from the Canadian set of New Moon, E! News has word that the British hunk may not be as smelly as people think, despite rumors that he never showers.
"He smells like roses!" castmate Alex Meraz said at the Armani Exchange watch launch party last night. "The first time I met him, I was like, 'Dude, you smell fantastic!' I don't know where people get this stuff from."
Article continues below advertisement
Alex says when he told Pattinson he smelled great the actor, "blushed and did his hair thing. He's comfortable in his own sexuality."
Well, girls, you can all now go back to obsessing over R-Patts!
HOT PICS OF ROBERT:
<a href="http://www.okmagazine.com/pixandvids/gallery/10422/1" target="_blank"><img src="https://d-images.okmagazine.com/img/photos/large/19585.gif" height="100"/></a> <a href="http://www.okmagazine.com/pixandvids/gallery/10422/2" target="_blank"><img src="https://d-images.okmagazine.com/img/photos/large/19584.gif" height="100"/></a> <a href="http://www.okmagazine.com/pixandvids/gallery/10422/3" target="_blank"><img src="https://d-images.okmagazine.com/img/photos/large/19583.gif" height="100"/></a> <a href="http://www.okmagazine.com/pixandvids/gallery/10422/4" target="_blank"><img src="https://d-images.okmagazine.com/img/photos/large/19582.gif" height="100"/></a> <a href="http://www.okmagazine.com/pixandvids/gallery/10422/5" target="_blank"><img src="https://d-images.okmagazine.com/img/photos/large/19581.gif" height="100"/></a>
<a href="http://www.okmagazine.com/pixandvids/gallery/10422/6" target="_blank"><img src="https://d-images.okmagazine.com/img/photos/large/19580.gif" height="100"/></a> <a href="http://www.okmagazine.com/pixandvids/gallery/10422/7" target="_blank"><img src="https://d-images.okmagazine.com/img/photos/large/19579.gif" height="100"/></a> <a href="http://www.okmagazine.com/pixandvids/gallery/10422/8" target="_blank"><img src="https://d-images.okmagazine.com/img/photos/large/19578.gif" height="100"/></a> <a href="http://www.okmagazine.com/pixandvids/gallery/10422/9" target="_blank"><img src="https://d-images.okmagazine.com/img/photos/large/19577.gif" height="100"/></a> <a href="http://www.okmagazine.com/pixandvids/gallery/10422/10" target="_blank"><img src="https://d-images.okmagazine.com/img/photos/large/19576.gif" height="100"/></a>