NEWS
R-Pattz Defends K-Stew "Rape" Comment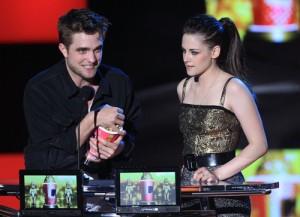 Entertainment Weekly has released a preview of their upcoming feature on Kristen Stewart, Robert Pattinson and Taylor Lautner. In the interview with the mag, Kristen and R-Pattz open up about the media pandemonium and intrusion surrounding Twilight and the backlash from Kristen's now infamous rape comment — and Rob has K-Stew's back all the way!
Article continues below advertisement
Kristen admits that recently she has felt more comfortable in the spotlight — something which can be seen in her developing maturity on the red carpet.
OK!'S ECLIPSE COUNTDOWN: SEVEN FUN FACTS ABOUT R-PATTZ
"I feel less bare," the 20-year-old actress tells EW. "I feel much more like nobody can take anything from me. Before, I felt literally like my chest was cracked open and people could just reach in and examine and pick at anything they wanted, and it just freaked me right out."
OK! VIDEO: ROB, KRISTEN & TAYLOR TACKLE TWI-HARD QUESTIONS
Kristen received a lot of negative flack for a comment she made during an interview comparing the intrusiveness of the paparazzi to rape.
"I'm so sensitive about stuff like that," she explains when asked about her poor analogy. "That is the one subject that means a lot to me. I made one movie directly concerning it 2004's Speak, and I made another one where my character has a horrible history of rape 2010's Welcome to the Rileys. I talked to a lot of people about it. I used the wrong word."
Article continues below advertisement
K-Stew explained that a better choice would have been "violated."
"But I'm young and emotional," she continues. "It's just the way it goes sometimes. I probably shouldn't say this, but I just feel like people got so excited once they saw that it was me. It was like, "Sweet! Let's get her!" And then for the people to exploit it under the guise of being morally upstanding is disgusting — and it embarrassed me because I was a part of it."
K-Stew explains she found out about the negative criticism when her publicist informed her that RAINN — Rape, Abuse and Incest National Network — released a harsh statement about the actress's word choice.
During the interview, Rob takes the time to defend and protect his lead lady (almost reminiscent of an Edward and Bella like interaction).
Article continues below advertisement
"None of those associations came out and gave a statement criticizing Kristen without being called upon by the media first — who were doing it specifically to get hits on their websites," he explains. "That whole system of Internet journalists, where no one is called to account, is almost entirely about hate. All these people get away with doing it because they have no responsibility to anyone. All they need is to get a salacious headline and people click on it, because it's easy."
Rob adds that the Twilight platform allows him and the rest of the cast to defend themselves as well.
"And it's quite good being part of these Twilight films because you have to give so many interviews all the time, you can defend yourself," he continues. "That's the only way. All of us stick together, as well. There are so many little nerds behind their computers, on their little blogs"
Article continues below advertisement
In response to Rob's "littler nerds" remark, Kristen retorts, "See, if I said that? Crucifixion. You can say so much more than me. It's insane... you could say, "I just took a s***on the Queen's face," and people would be like, "Oh, I love him! I love him!"
It's great to see that Rob and Kristen can defend each other when it counts, but also have a sense of humor with one another!