NEWS
R-Pattz Makes Public Appearance Post 'New Moon' Pandemonium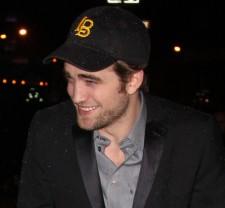 He's back! Robert Pattinson quietly attended the premiere of Peter Jackson's The Lovely Bones last night in L.A., according to Vampire Diaries starlet Katerina Graham. The actress spotted R-Pattz checking out the film. "At the premiere of lovely bones and robert pattinson is here girls!" she wrote on her Twitter page late last night. "Should I kidnap him for the fans? He's sitting a few rows from me."
Article continues below advertisement
While R-Pattz chose to skip the red carpet, a flock of beautiful stars did stop for the photographers including the film's cast — Saoirse Ronan, Susan Sarandon and Rachel Weisz.
Robert has been seeking out normalcy in his life, which is not easy for the Twilight star to do.
Last week he joined a bunch of his guy friends at the Hotel Café Bar for a show to escape the fan fever that consumes him on a daily basis.
Instead of a relaxing evening, Rob blew his cover and was forced to leave the bar trying to hide under a cap and sweater once word got out that the New Moon heartthrob was in the building.
We are glad to see R-Pattz out and about, although, where was Kristen Stewart?