NEWS
R-Pattz Spider-Man Rumor Gets Caught in a Web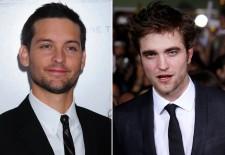 Well Twilight fans, we're getting stuck in a spider web — of confusion! As soon as Tobey Maguire was reported to be replaced in Spider-Man 4 , the rumor mill started grinding and Robert Pattinson's name was thrown into the ring for the role, perhaps mistakenly, Gossip Cop reports.
The buzz on Robert replacing Tobey in the Spider-Man 4 movie was spread by an old rumor, Gossip Cop reports.
Reasons behind Robert most likely not taking the role include — what we already speculated — his already busy schedule! He's working on Bel Ami, Unbound Captives and likely Breaking Dawn.
Article continues below advertisement
There will be a new Spider-Man, but the dream of it including R-Pattz is dimming.
Gossip Copsays that casting has not even started for the new role because they need a new script, schedule and identity for the franchise.
But until the words come from Rob's lips, there is still hope, Twi-hards!