NEWS
Rachel Bilson Can't Get Enough of Coral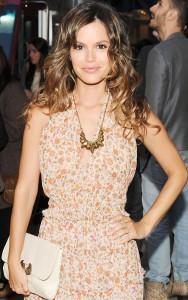 Rachel Bilson flies over from the Cannes Film Festival in France to make it just in time for the launch of the Derek Lam + eBay Collection held Tuesday in NYC.
"I think it's such a cool thing that Derek did," the actress, 29, tells me of the dress line which ranges from $125-$295. "The fact that he showed the pieces and he had people vote on what they liked the best, he's speaking to his customers. And they're beautiful, wearable and affordable."
Article continues below advertisement
For summer, Rachel is loving bright shades. (She's wearing the boho halter dress.)
"I'm into color right now," she confesses. "The really bright colors, the corals and all that. I think that whole spectrum is pretty."
When guests are not trying on an array of frocks from Derek's latest line, they enjoy food trucks stationed outside offering up treats like cheeseburgers, French fries, waffles, Asian dishes, ice cream cones and more.
Partygoers also enjoy Zoe Kravitz's dancing: She shakes her booty to I'm Coming Out.
The Derek Lam + eBay Collection is available now.
Catch all the action from the star-studded block party in the clip below, via Bader TV!