NEWS
Rachel Dratch Leaning on 'SNL' Pals Through Pregnancy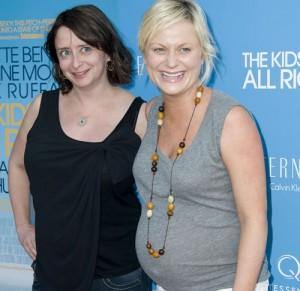 Now that Rachel Dratch is expecting her first child, she's looking to her former Saturday Night Live pal Amy Poehler for advice.
"She's kind of my mom so laughs she's a good mom," Rachel, 44, tells me of her good friend, who is pregnant with her second child. "She's a nurturing soul. And she's fun, too. It's a good combo for a mom."
One way Rachel will keep her little one entertained is with great stories of world travel.
Article continues below advertisement
"One time in Italy I wore … I guess you'd call it a wife beater t-shirt, although that's not PC," she recalls. "I wore a little black tank top to a restaurant, and this Italian woman sitting next to me was giving me the evil eye the whole meal. I guess you're not supposed to wear those? But it wasn't even fancy. I don't know, maybe I looked like an American. laughs"
As the tot grows up, it will also be entertained by mom's former Saturday Night Live co-star Maya Rudolph, 37, who is mom to Pearl, 4, and Lucille, eight months, with director boyfriend Paul Thomas Anderson. (Hello, playdates!)
"Maya and I went to Tulum, Mexico, with the gang," Rachel says. "The place was not all that … the place did not look like the Web site at all. I think our little hut was next to a sewage system. Anyways, we left."
For Rachel, keeping everything in perspective is key when it comes to traveling.
"You need a sense of humor for when things go wrong on vacation. Yeah. That's why I usually travel with the same little gang. When something goes wrong, we make it into a big joke. Once I traveled with people cackles who didn't have that sense of humor, and I had planned the trip. You know what it's like when you're the 'responsible' person who books the place? Then it's not a fun vacation when you're responsible for everyone's good time."
Certainly Rachel's easygoing nature will guide her through the ups and downs of motherhood.