NEWS
Rachel, Hayden, Sam Brave Chill for 'Jumper' Premiere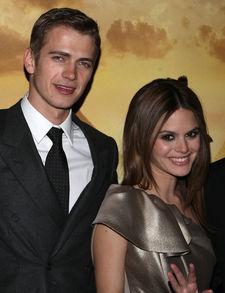 They promised us a heated tent, but that didn't stop my hands and feet from freezing and eventually losing feeling at the Jumper premiere held at NYC's Ziegfeld Theater. Brrr!
For more than two hours, a good twenty journalists are packed in a five-foot space. It's tighter than New Year's Eve in Times Square – and that's tight! Throw in the blustery, 18-degree weather outside and it could've been a recipe for disaster.
Article continues below advertisement
Lindsay Lohan lookalike Annasophia Robb moans "I'm cold," and she's right. Her polar-ice breath can be seen as she lets out a gust while posing for photos.
"There's no way they're going to stop," we mutter amongst ourselves. Rachel Bilson would be wearing a flowing dress – and we were decked out in the warmest cold-weather gear. (Some people had hand warmers!) She'll run by reporters ASAP. But actually, we were pleasantly surprised.
"I wish I was in my bed under the covers 'cause I'm cold, I'm tired, but I'm really excited to be here," perky Rachel says, moments before doffing her coat to pose for photos. "I'm really happy to be right here right now."
If she could date a superhero, she'd go for Batman, and the superpower of her choice is teleporting. "Absolutely," she says.
Rachel loves her character. "She's a really strong female character in a male-generated movie," she says. "She's not the damsel in distress. I think people will look up to her."
Article continues below advertisement
While her secret beau Hayden Christensen says the couple have no plans for Valentine's Day, Samuel L. Jackson's 28-year-marriage to LaTanya Richardson is up for the asking.
How can guys woo their woman on Cupid's day?
"Great words can help, other than candy and cards," LaTanya says. "Gracious words for the day, and a helping hand is always appreciated. Until it's time for a root canal."
Of course, they could also take their date to their sci-fi thriller Jumper, which opens on Valentine's Day.