NEWS
Rachel McAdams Is a Relationship Romantic: "It's Such a Hard Thing to Find"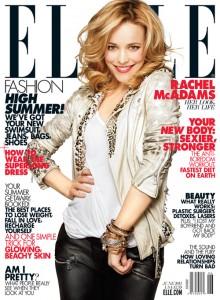 When it comes to relationships, Rachel McAdams is a romantic. The Midnight in Paris star is showing off her romantic side for the cover of Elle magazine and explaining how hard it is to find a relationship that meets her high expectations!
OK! VIDEO: WATCH NEW MIDNIGHT IN PARIS TRAILER FEATURING OWEN WILSON & RACHEL MCADAMS
Rachel is currently starring in Woody Allen's Midnight in Paris with Owen Wilson, whom she has worked with before on Wedding Crashers.
Article continues below advertisement
"It's definitely a different dynamic from the last time we were together," Rachels tells Elle of their new film. "It wasn't as fun being mean. I love that Woody likes good guys to be good guys and bad guys to be bad guys. Owen seemed to respond really well when I was a really bad guy."
But typically, Rachel is the romantic one in a relationship.
"I am," she admits. "When Billie Holiday comes on, I can't help but be transported — and I'm sure it wasn't as romantic then at all — but that's the wonderful part of my job: dressing up and walking down the street in New York or Toronto, pretending I'm in the '40s."
OK! GALLERY: RACHEL MCADAMS GETS HER MUSICAL ON IN L.A.
And Rachel is inspired by her parents' marriage.
"They are Still together and still in love. I'm very blessed that way," she says. "I had a great example of love in front of me, and that's probably what makes me such a romantic, because I've seen it firsthand."
"You grow up and you assume that everyone is like that, and you quickly realize that they're not, and then you have those days when you wonder if you're going to find it for yourself," Rachel explains about relationships. "It's such a hard thing to find. I think it was more that realization that rocked me."
Wonder if Rachel has found it in Michael Sheen?
For more of Rachel's interview with Elle, pick up the new issue on newsstands May 17!