NEWS
Rachel Weisz on Mommy Talk: "It's So Boring"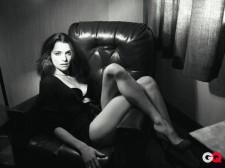 Will Rachel Weisz be stepping up behind the Oscar podium for a second time? GQ magazine thinks it's a definite possibility. The Best Supporting Actress winner for her work in The Constant Gardener plays a grieving mother in Peter Jackson's The Lovely Bones, and her performance may win her golden statue a partner.
Besides starring in critically acclaimed films, Rachel is a busy mom taking care of her three-year-old Henry with long-time fiancé filmmaker Darren Aronofsky.
Article continues below advertisement
The proud mom tells GQ she is not a fan of "mommy talk."
"It's so boring," Rachel says. "There's nothing more boring than parents talking about their children. They're cute little things, but it's just not interesting."