NEWS
Rachel Zoe Confounded by Bethenny Frankel Slam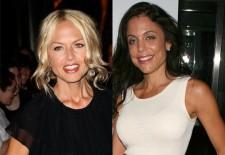 Earlier this week Real Housewives of New York's Bethenny Frankel took to her Twitter page to slam stylist and reality star Rachel Zoe in a rather acid-tongued bit of nastiness. When OK! caught up with Zoe to ask her about it, she explained that she has no idea where the bad blood came from.
"It was out of left field," she told OK! at the Vogue magazine-sponsored launch party for the third floor of Saks Fifth Avenue, about Bethenny's comments, which included gems like:
Article continues below advertisement
"Wondering if I'm the only one who can't get over the self-important nonsense that is Rachel Zoe."

If I stick on a lampshade with a moo moo and a pair of bananas hoop earrings, rz may just D I E. What a bunch of BS!"
For her part, Zoe is attempting to shrug the whole thing off. "It's so boring and uninteresting... I don't find it fascinating at all. And, it was literally out of left field... I'm over it. I'm totally over it."
In case you hadn't gathered, she's apparently "over it."