NEWS
Rachel Zoe Shows Off Her Baby Bump: "Being Pregnant Has Been a Drama-Free Time"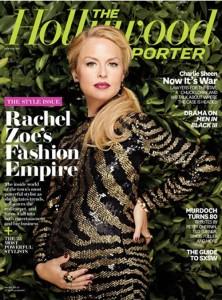 Forget the nude photo shoots pregnant celebs like and Demi Moore have pioneered. Leave it up to Rachel Zoe to accessorize her growing baby bump in couture! The beloved celebrity stylist glows on the current cover of The Hollywood Reporter and opens up about balancing business and pregnancy, John Galliano's dismissal from Dior and styling Anne Hathaway for the Oscars!
"I can say in all honesty that being pregnant, working with the kind of people I work with and being this businesswoman has been a really wonderful, drama-free time in my life," Rachel tells THR.
Article continues below advertisement
The baby shower gifts remain in the nursery upstairs at the Zoe household, and are to be left untouched until their son arrives.
"We're superstitious," Rachel's hubby of 13 years, Rodger Berman tells THR. He also has been the the president of Rachel Zoe Inc. since July. "It's a Jewish thing."
Giorgio Armani recently sent the mom-to-be a handwritten thank you note for showcasing the night's "most spectacular red-carpet look … on stage," referring to Anne's off-the-shoulder cobalt-blue Armani Privé gown.
The eight total looks Anne (who Zoe calls Annie and has had a working relationship with for a while) wore on Oscar night — including a vintage 2002 Valentino on the red carpet, a white, strapless Grecian Givenchy Haute Couture for the opening number and a metallic-beaded, flapper-style Oscar de la Renta that begged to be shimmied — were all hand picked by Rachel and her team of only seven members.
Not an easy feat for a woman in her third trimester but Rachel welcomed the challenge.
Article continues below advertisement
"I'm not sure that most people can name another stylist," Rodger says.
"When you're a creative person, whether you design clothing or homes, your brain is constantly moving," Rachel shares. "What is beautiful? What gets you going? I have a 99 percent accuracy rate on my gut. I wish I could be that good with people. But projects, I'm pretty right-on about."
Does Rachel recognize her power?
"No," she states. "Oprah is power — she is everything. Martha, she can make a house out of a piece of paper. I have incredible respect for women like that because it's not easy. People fight you every step of the way — they pull you down as soon as you get up. And the reality is, it's harder for women. It's like if a girl has fooled around with a lot of guys, she's a slut. But if guys do it, they're cool."
Article continues below advertisement
Rachel also doesn't want to be the one photographed on the red carpet.
"A stylist is a behind-the-scenes job," she says. "I'm never a star when I'm with a star — ever. Back then, I was very insecure about that. Even now, if you watch me on a red carpet, I'm physically uncomfortable. I can't strike a good pose to save my life. Fortunately and unfortunately, it's a part of brand-building. It's just part of my job."
She also opens up about former celeb friend Lindsay Lohan and denounced Dior designer Galliano.
"We had a great run. I wish her the best and hope that everything works out," Rachel said of Lindsay.
As for Galliano and his "I love Hitler" remarks, resulting in his termination from Dior, she shares,. "Anti-Semitism, racism or any prejudice is not something I tolerate. I've fired clients because they were anti-Semitic, or anti-everything, except what they were. … I've known John Galliano and his boyfriend for years. I don't know enough about it to make a clear statement, but if it's true, it's tragic."
So what does the future hold for the soon-to-be parents?
"I have this visual of me and Rodg living in this amazing house that's not too big in the south of France, where we go for four months and just sit on the beach and make jewelry. Not to sell, just for fun and therapy. Like literally, take rocks and shells and glue them."
We love that she threw some signature Zoe-speak (literally) in there!